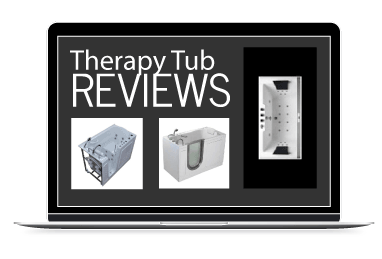 Top 10 Reviews of Walk In Tubs
The ins-and-outs, difficulties, challenges, advantages, and considerations related to buying a therapy tub.
Owning a walk-in bath tub is very likely to improve your quality of life immensely. Is it for you? Only you can make that determination.  We believe in getting you the answers and knowing what questions to ask!
We review and rank therapy tubs and walk in bathtubs.
Walk In Tubs
Whirlpool and jetting
Heated water and therapy features
Learn about Therapy Walk In Tubs
Walk-in tubs take up a similar amount of space in a bathroom as a traditional bathtub so installation is generally straight forward and simple to align existing plumbing and drain.
Walk-in bathtubs have a door descending to near ground level to allow a person to enter the tub without climbing over the side of the tub and the door is self-sealing.
Most walk-in bathtubs also have a chair-height seat, but a few, which are the same basic configuration as a standard bathtub, do not have any seat.
There are also smaller walk-in tubs that offer front and side entry for a less-than-standard space.
Here is a listing of the top reviewed Therapy Tubs:
Therapy Tub Reviews Note:
If you schedule an in-home sales consultation to discuss options for buying your therapy walk in tub, a sales representative will come out to your home, to discuss product choices, and measure your bathroom to confirm which tub would fit best.